Discover a ski area of a rare exception! Nicknamed "SerreChe" and nestled in the middle of the French Alps near Briancon,the ski resort sums up all the elements required for a fulfilling stay. With its 410 hectares of slopes, plenty of powdery snow,hundreds of ski tracks for every kind of ski level and its amazing surroundings, Serre Chevalier has everything of a Great.
Comfortably set in the Southern Alps Serre Chevalier is a unique place
For a luxury ski stay, you are welcomed to discover 1001 treasures among the resort. A multitude of ski slopes, exclusive surroundings, numerous activities, a large choice of luxury chalets; everything is reunited for a high intensity stay!
Staying in Serre Chevalier is first of all taking advantage of an unbeatable quality of snow sports area
Set in theGuisane Valley, the resort covers almost 4 000 hectares from Briançon to Monêtier-les-Bains. Considered as one of Europe's greatest ski area, Serre Chevalier offers not less than 410 hectares of marked ski slopes. Experiencing a luxury stay in Serre Chevalier also means enjoying a skiing area adapted for both children and adults. Here, amateur and confirmed ski racers can enjoy a hundred of ski tracks.
Black marked ski slopes for daredevils, blue marked slopes for prudent skiers and green ones for beginners, Serre Chevalierallows everyone to have fun and enjoy snow sports with a skiing area spread over 250 kilometres.Cross-country ski racers can appreciate 35 kilometres of trails dedicated to Cross-country skiing and Nordic skiing.
Serre Chevalier is way more than a snow sports journey: it's a unique adventure!
At 2830 metres in altitude, the snow sports resort dominates the Southern Alps and shines with its numerous mountain passes, snowy summits and its picture-perfect sceneries. Close to the Italian border and with the "Parc des Ecrins" National Park nearby, Serre Chevalier doesn't lack of natural treasures that will for sure seduce you as well.
With 300 days of sunshine a year, how not to be convinced … it is as if the sun isalways keeping an eye on the resort. This incredible weather makes it easy for all snow sports and nature lovers to fall for itsbreath-taking landscapes. Everything is reunited to make your journey unforgettable!
A luxury ski stay… with way more than ski!
Renting one of our housings, luxury chalets or exception apartments in Serre Chevalier is of course means fully enjoying snow sports pleasures, but also discovering many other activities!
Are you a thrill lover? Your journey in Serre Chevalier will be an opportunity to try intense sport disciplines. Try paragliding and fly over the mounts of the Guisane Valley!Drive a snowmobile and make your own way through the mountain passes.Put a helmet on and go for high speeds on an ice karting circuit.Plenty of activities from which you will come back with incredible memories. During summertime you also have the possibility to try rafting, hiking and even climbing.
At any season, Serre Chevalier welcomes you for intense adventures. The resort has many other pleasant surprises waiting for you!
Contacting our agency to organize your stay in Serre-Chevalier also means enjoying an unparalleled pleasant time
After a day hurtling down the ski slopes or hiking up the mountain passes with snow shoes, you can have the luxury to appreciate the wellness area. You will love taking the time to relax in the spa or hamam in your luxury housing. After a few laps in the private pool,an at home professional massager can be booked and will wait in front of your doorstep. Whatever your holydays cravings are, Serre Chevalier and its hundreds of activities will make it possible. Isn't it how happiness is supposed to be after all?
Ski area- winter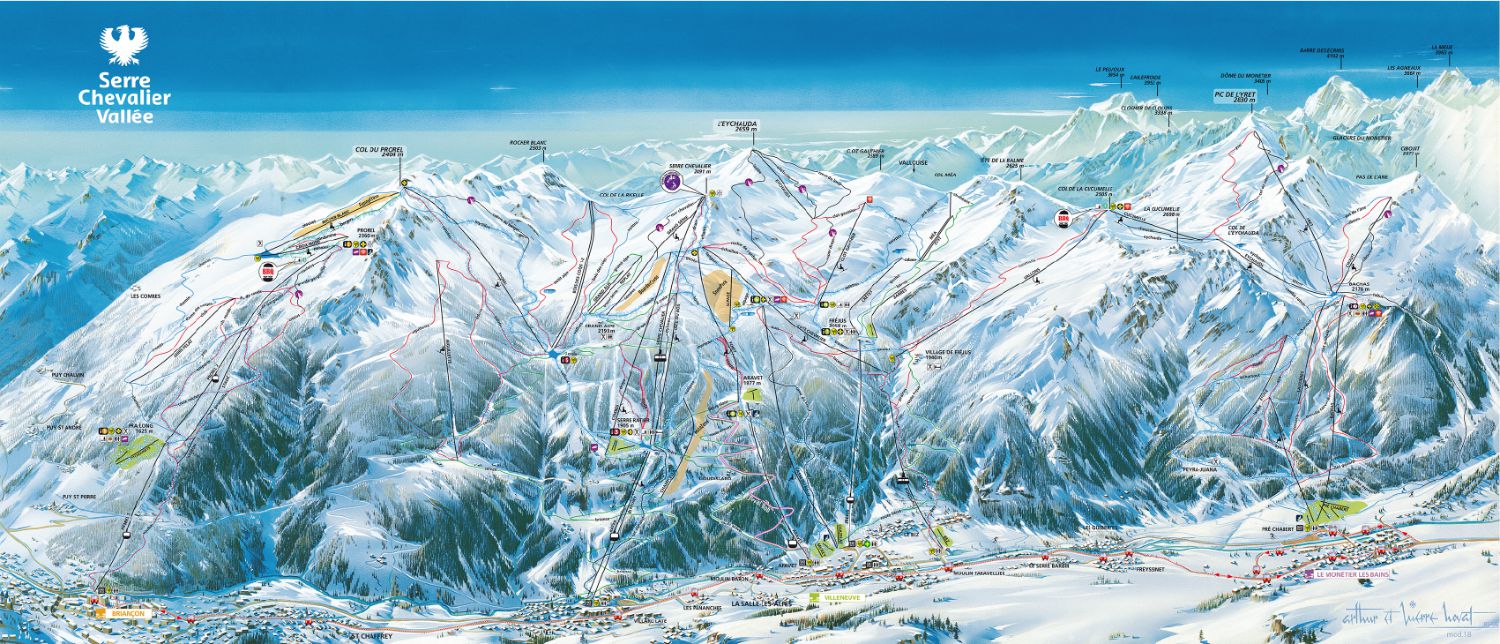 Bike Park - summer